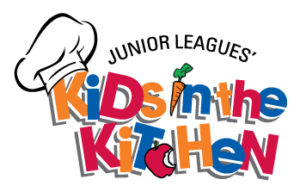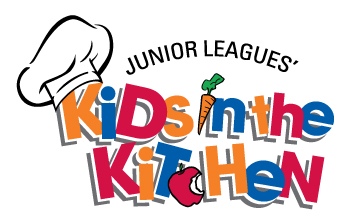 Junior League of Lansing holds Kids in the Kitchen Event annually. This free event is for local families that is packed with fun activities, food and prizes. 
The 2020 event has been canceled per the Stay-At-Home Order for the state of Michigan.

Childhood obesity has more than doubled in children in the past 30 years.1, 2 Children who are obese are likely to be obese as adults3-6 and are therefore more at risk for adult health problems such as heart disease, type 2 diabetes, stroke, several types of cancer, and osteoarthritis.7 Healthy lifestyle habits, including healthy eating and physical activity, can lower the risk of becoming obese and developing related diseases.7
To help counteract this growing issue and establish healthy lifestyle habits at an earlier age the Junior League of Lansing annually hosts Kids in the Kitchen.
Participants will learn how to identify healthy food choices, prepare nutritious snacks at home, participate in various fitness activities and enter to win fabulous, fun prizes for FREE!
All Junior League members and their families are invited to attend – we hope to see you there!
Kids in the Kitchen History
Junior League's Kids in the Kitchen started as Junior Chefs, a program developed in Calgary schools in 2001 to help children develop long-term nutritional knowledge, the Junior Leagues' Kids in the Kitchen program is now active in more than 200 cities in Canada, the U.S., the UK and Mexico.
"The fact that a relatively small initiative that began in Canada has now rolled out to more than 200 communities in four countries is nothing short of remarkable," said Deborah Maw, National Coordinator of The Canadian Federation of Junior Leagues. "It shows not only how great the need is, but also that we've fine-tuned the program into an approach that works, brings parents and their children together in the kitchen, and is sustainable model for generating awareness of this critical issue."
The Junior League of Lansing recognizes the importance of childhood obesity and encourages everyone to participate in a healthy lifestyle including a nutritious meal plan and regular exercise.
References
Ogden CL, Carroll MD, Kit BK, Flegal KM. Prevalence of childhood and adult obesity in the United States, 2011-2012. Journal of the American Medical Association 2014;311(8):806-814.
National Center for Health Statistics. Health, United States, 2011: With Special Features on Socioeconomic Status and Health . Hyattsville, MD; U.S. Department of Health and Human Services; 2012.
Guo SS, Chumlea WC. Tracking of body mass index in children in relation to overweight in adulthood. American Journal of Clinical Nutrition 1999;70:S145–148.
Freedman DS, Kettel L, Serdula MK, Dietz WH, Srinivasan SR, Berenson GS. The relation of childhood BMI to adult adiposity: the Bogalusa Heart Study. Pediatrics2005;115:22–27.
Freedman D, Wang J, Thornton JC, et al. Classification of body fatness by body mass index-for-age categories among children. Archives of Pediatric and Adolescent Medicine 2009;163:801–811.
Freedman DS, Khan LK, Dietz WH, Srinivasan SA, Berenson GS. Relationship of childhood obesity to coronary heart disease risk factors in adulthood: the Bogalusa Heart Study. Pediatrics 2001;108:712–718.
Office of the Surgeon General. The Surgeon General's Vision for a Healthy and Fit Nation. [PDF: NBK44660]  Rockville, MD, U.S. Department of Health and Human Services; 2010.